MGA Seats Rebuild Tech Day
March 20, 2005 - 10:00am-1:00pm
25W151 Lacey Avenue, Naperville,Illinois
(Yes, itís heated)
Click for interactive map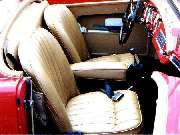 The MGA seats looked like this picture 18 years ago, before 190,000 additional miles of harsh use and abuse. You probably donít want to know what they look like now. We will be making them look like this again. The covers will be original type leather (with vinyl on the sides and back). The inner materials will also be original type, heavy back board and horsehair padding parts (with a short review of some alternate materials). We will also be making templates of the bottom cushion base board construction (for those who like to make their own).

Barney Gaylord - barneymg@mgaguru.com - 630-505-08665